ROAD RAGE
Revenge is a dish best served cold…
Desmond Luca was content to pastor his little Nebraska church until "the enlightenment" came. Now his rise from small town, minister to megachurch superstar brings with it questions: Pastor or Predator?
Insurance agent, Paul Trimble had a thriving career until he hit a bridge abutment at full speed. Now Paul's obsession with the TV preacher causes him to question why Desmond is stalking him.
FBI Special Agent Stormie Lamonica is bent on uncovering the truth. Serial murders, child abduction and unexplained accidents, all in the same rural Nebraska town. And Desmond Luca is right in the middle.
Stormie Lamonica returns in her own series of books with the first installment called: Cain
Click here to view CAIN
Road Rage is a work of fiction, Names, characters, places, and incidents either are the product of the author's imagination or are used fictitiously. Any resemblance to actual persons, living or dead, events, or locales is entirely coincidental. All rights reserved.Copyright 2012 © by Dave Rhoades Book design by Stormie Rhoades No part of this book may be reproduced or transmitted in any form or by any means, electronic or mechanical, including photocopying, recording, or by any information storage and retrieval system, without the written permission of the publisher or author, except where permitted by law.
THE BARN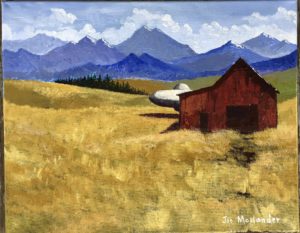 The first in the series:
A Colorado Kids Investigation Club Mystery
What mystery lies in the old barn? Davey, T.J., Coco, Nikki, Jasmine and Jasper are about to find out. When the members of CKIC (Pronounced KICK) hear strange noises coming from their favorite abandoned barn, they are mandated to spring into action. What sort of alien plot will they uncover in the shadow of a nuclear facility nestled in the Rocky Mountains? Who will they find behind the scheme and how will they escape unscathed?
This mysterious quest will keep readers on the edge of their seat whether they are middle-school age or adult. Great adventure fun for the entire family!
Camp ETC
If you bury eight-million dollars and a body, make certain no one builds a library over them…
Shenandoah Place thought it would be a simple move from Cedar Rapids, Iowa to the scenic Colorado Rockies; and it was, until she arrived at Eagle Timber Camp, better known as ETC. 
From then on, she had to deal with infatuated counselors, renegade campers with bows and arrows, a crazy postmaster name- Riff Raff and six, not-so-bright crooks bent on recovering eight-million dollars that was buried somewhere on the grounds. 
In the first installment of the Camp ETC novels, our heroine takes us on a mystery romp filled with fantastic scenery and colorful, but somewhat eccentric characters, when the everyday lives of the camp staff and campers are disrupted by some undercover crooks. 
Do Shenandoah and her new found friends have what it takes to thwart a scheme hatched twenty-five years earlier?
We will hold our breath…
A great story for all ages. 
The KIDDOS